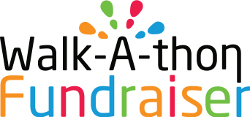 PTA Walk-a-Thon Fundraiser
PTA Walk-a-Thon Fundraiser
Step 1:
Last week your child should have brought home a large envelope with instructions for collecting donations for the Walk-a-Thon fundraiser.  We suggest students ask family and friends for per lap donations or just a one time donation and record all donations on the form on the outside of the envelope.
Step 2:
Students will get their free Walk-a-Thon t-shirt this week and are encouraged to wear them on Friday the 21st for the Walk-a-Thon.  Each grade will have 45 minutes to walk or run as many laps as they can.  Prizes will be awarded for the class in each grade that does the most laps as well as the boy and girl in each grade who do the most laps.
Step 3:
After the Walk-a-Thon students should collect their donations and return them in the envelope to their teacher or the office by Wednesday, April 26th.  One time donations can also be made with credit cards by clicking on the Walk-a-Thon link on the right hand side of this website.
Thank you for your time, effort and support in helping us make this PTA fundraiser a success!